Ever have one of those glorious weekends that you wish would never end?  We just wrapped up one of my most favorite weekends that was packed with everyday normal family activities.
I want to capture every single scrap of memories and document it. For many, it would just be a really fun few days.  For me, this weekend was a life goal come true.   
Close to the end of the weekend, a friend I haven't gotten to speak with in quite a while paused for a quick hello.  He said he was observing my family at church and loved to see how we are now after the shit we've been through.  I hadn't spoken with this friend since some time after the first miscarriage. 
He had lost count of our 3 losses. 
He didn't know about the very long recovery after delivering our first son, totaling up to 10 medical appointments per week for a while. 
Nearing 40, we opted to have our second son as soon as possible (not quite 15mo apart). 
He learned of Matt's job loss, retraining, and the new job at an average 65hrs per week. Matt doesn't make it home for supper most nights, sometimes misses bedtime stories, and often has very long Saturdays and is on-call on Sundays.  His personal time is usually during the boys' nap after church, and then gets just that window of time after-nap before-supper to really play with them. 
I will never take a weekend like this for granted. Matt was with us the entire time, and the boys soaked it all in.  I get out and do as much as possible with the close age gap that the boys have, but some tasks are just easier and/or more enjoyable with Matt. Other things, like going to a pumpkin patch, I simply won't attempt alone until they are a bit older.
Friday Pizza and a Walk
We made a quick trip Friday morning to pick up just a little bit of produce at my favorite farm stand. I mean, who doesn't put potatoes under the seats and fill the cup holders to overflowing with broccoli bouquets? 
By Friday afternoon, the weekly chores were done, my part-time contracting work was wrapped up, Matt was home, and the homemade pizza was ready just as the boys woke up from their nap.  We ate and loaded them up for a walk in the woods.  
There's an abandoned road not far from our house. It is beside a farm with a cow and donkey. These were big highlights for Asher.
We're working with Asher on how to go on walks and not wander off.  We use a kid-leash toddler harness because the boy likes to bolt.  He is so very curious and full of energy At 2 years and 2 months old, you can guess it is still a process. He actually seems to see the leash as just part of the process with no hard feeling about it.  To him, it represents going for a walk where he gets to move.  It also gives us some security in nature or crowds to let him wander but be able to easily pull him near.  Doing alone that with a one-year-old is a challenge for me.  I have no regrets about using the leash.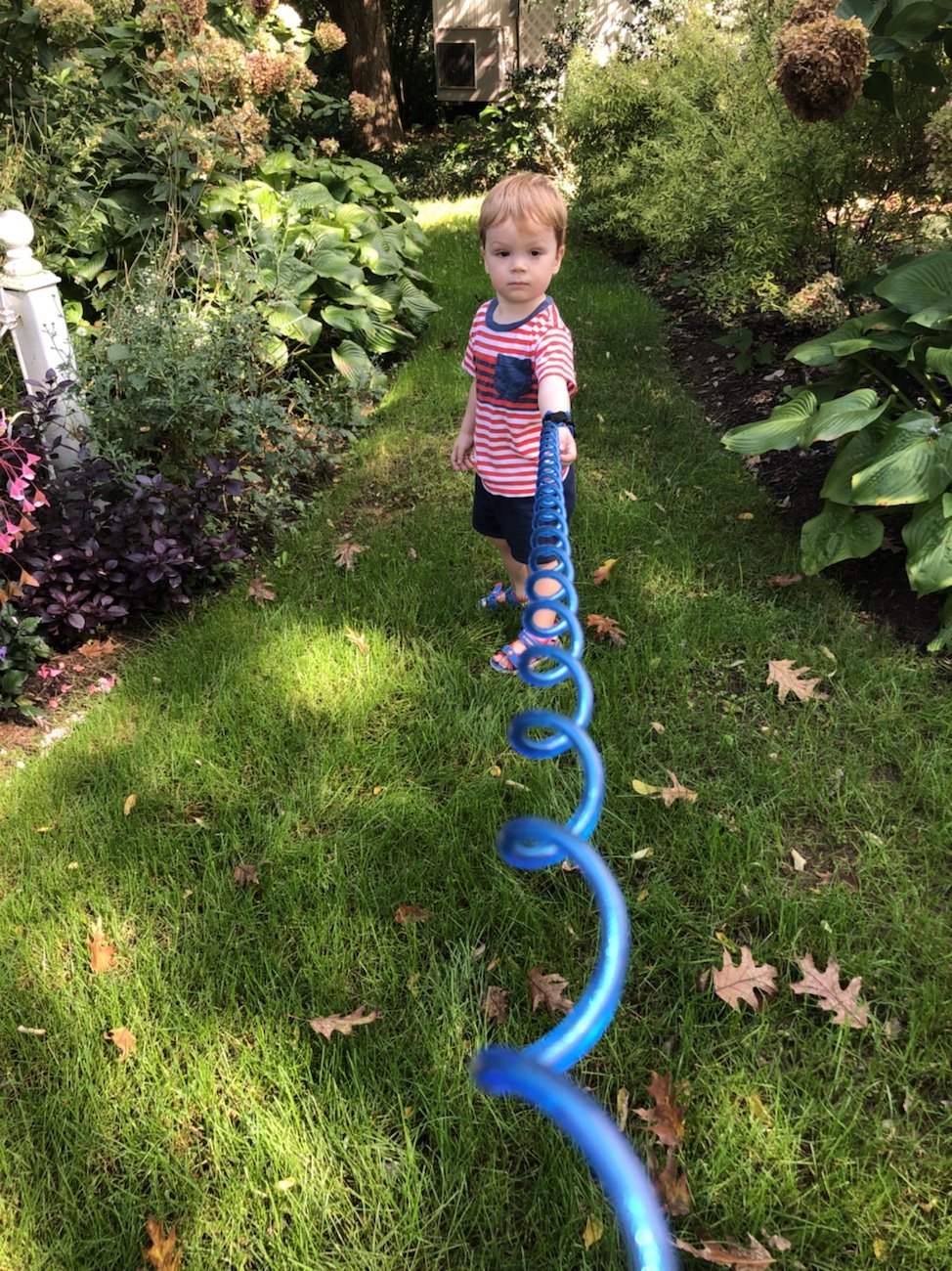 After his legs wore out, Asher mostly wanted Daddy cuddles.  He still loves being in his Tula Toddler Coast.  It's a cooler temp fabric and gives Asher the sensation of being held (which always soothes him) while being a bit more ergonomically correct for us.  
Asher saw ducks flying, mooed at the cow, learned what a donkey is and said "hee haw" to it.  He also heard a stream and asked us "what's that?".  
And Shiloh – well, he was along for the ride checking everything out.  He really liked to laugh at whatever Daddy and Asher were doing, as well as chewing on straps while in his Tula Free To Grow on my back.
Our family loves to go for walks in nature.  There is so much to explore. The air is so refreshing.  And, we all get great sleep afterward. 
Saturday Morning – Country Creek Pumpkin Patch
Sure, a fall festival is fun for all.  It was part of my dream to take my children to fall festivals, pumpkin patches, and exploring farms.  Yet, there was a time when l was still facing miscarriage after miscarriage, questioning if the day would ever come that I could hold one of my babies in my arms.  After achieving that, I still had a very complicated recovery and wondered if we'd ever be functional enough to enjoy leaving the house together.
Finally, a magical overcast 65-degree day came. Seriously, having cloud cover at this temperature helps keep things from feeling too hot for fun. Just after breakfast, we headed to Country Creek.  There were so many things for kids of all ages to do.  We arrived early and spent the entire morning exploring and playing.
As we walked, I was thinking about October being infant loss awareness month, and counting my blessings that we finally had children in our arms to go exploring with. It was not lost on me that I ran into Katie, the director of Sweet Grace Ministries.
Shiloh isn't sure about the corn box

Asher likes shoveling

Asher on the slide

Goat says mmmmaaaaa

Alpaca-paka-paka

Hi Goat!

Sheep

Hi Sheep!

The grass is always better on the other side

It's hard to get a family selfie

Daddy trying to throw Asher in to the bouncy house

Asher doesn't know what to do with the bouncy house and quickly leaves

Daddy wants to race

Let's Go!

I'm gonna get you

Asher drives the tractor

Big tractor

Drive drive drive

The ducky race didn't have enough water to move

On the hay ride

Going to see pumpkins and sunflowers

Shiloh on the hay ride

Learning to use the bounce pad

Crawling on the bounce pad

Here comes the tractor

More fun in the corn box

Let's swing

The pumpkin chunkin cannon was loud

Played out

I just want to nap here
Saturday Afternoon – The Garden
My garden this year is different than other years.  I raced to plant, I raced to harvest.  In between, the weeds grew. Prolifically.  More specifically, grass came up.  
It wasn't until the beginning of September that the boys reliably napped at the same time or that Shiloh would sleep through the night.  I wasn't really functional to have any time alone out there myself to tend to things aside from 3 days when my mom could watch the boys while I raced to accomplish as much as possible between nursing sessions.  
While the boys slept, I enjoyed a leisurely pace with Matt.  We enjoyed some physical activity while we could chat. It was a very rare 3 hours alone together doing something enjoyable.  And like that, the entire 1600 square foot garden was weeded.  It may have taken me all summer to wrangle the garden, things may have gotten wild out there, but it still produced well and now feels organized and as tidy as I need.  Next up is the 1100 square food berry patch and around the house.  Maybe Wednesday while Matt is off for Shiloh's birthday. 
We took it easy for the evening with some grilling, playing in the yard, and bath time. We even had an at-home date night complete with some board games.
Asher even asked for applesauce.  Normally he still whines unintelligibly about food, leaving us scrambling and guessing.  When he asked for specific food after already eating the main portion of his supper, we were thrilled and praised him for such a big boy way to use his words.  It's a process.
Sunday – Church & Splash Pad
Asher can tell the Sunday morning routine.  Everyone is getting cleaned up a bit more to go out.  He saw my wet hair and asked me if I was going to use my hair-dryer.  When did he suddenly start putting these routines together enough to ask me a full sentence about it?  He's even starting to request diaper changes when wet and potty training is on the horizon.
Lingering in the back of my mind that morning is that I'd have a 4 year old if miscarriage hadn't claimed him. These thoughts are never far. I'm not stuck in the instant grief after loss but do often wonder what silly new things he would be doing. 
While they napped after church, I meal prepped one of my favorite quick breakfasts for the week, Sausage McCriddles.  I also made our smoothie powder mixes for the week ahead, and packed up a meal to deliver to a friend who just brought home a new baby.
As the boys woke up from nap time, I stuffed them full of yogurt bites, we loaded up the car, and delivered the meal.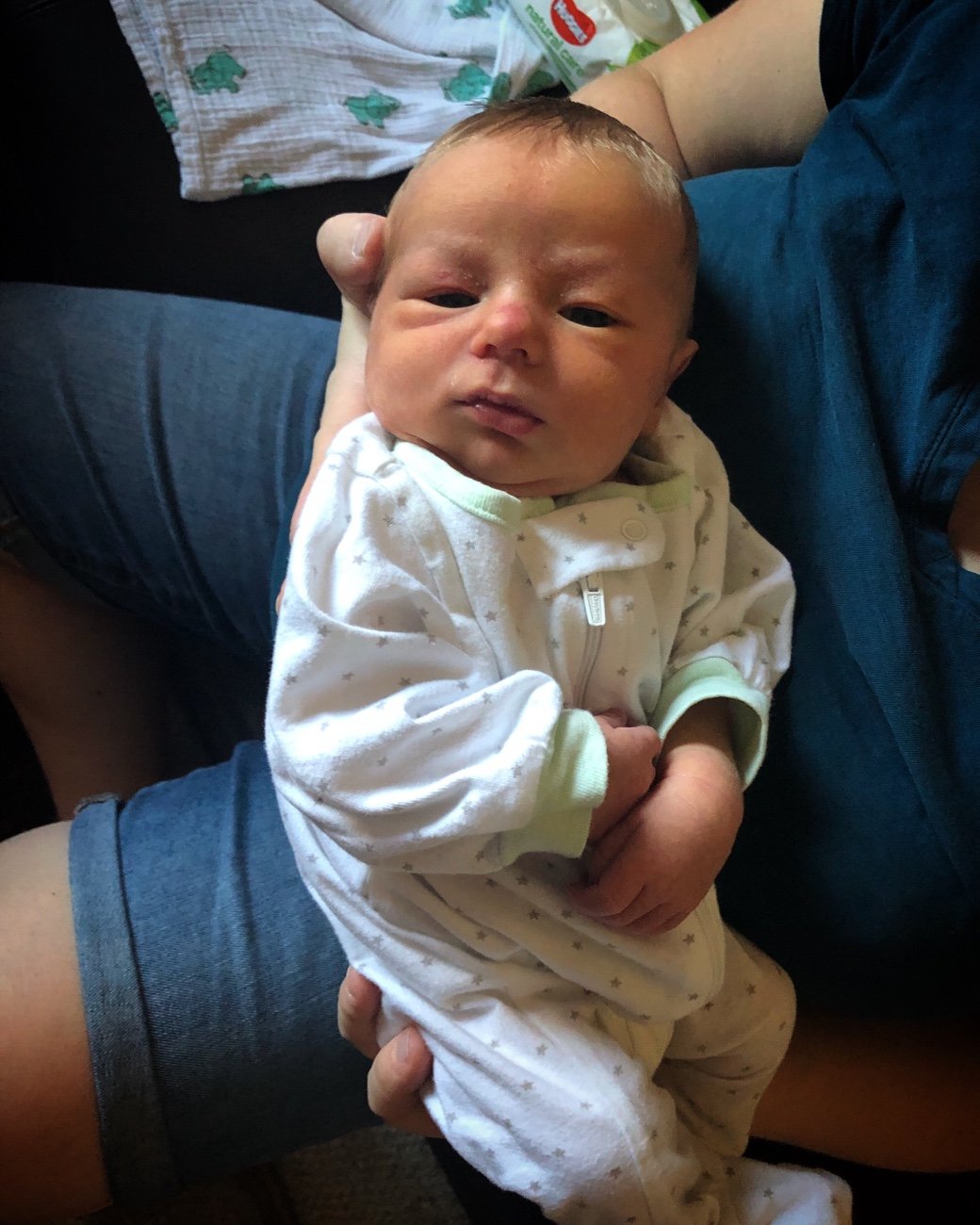 Again, I thought, I am so thankful for the time I got to hold both of my newborns after 3 losses where my heart ached to have my babies in my arms. 
After our errands, we headed to the Chambersburg Aquatic Center Splash Pad.  Summer won't relent, and it was 87 degrees out. We wanted to cool off and also wear the boys out.  It too was a success. 
Asher met some kids at the splash pad.  Immediately he says "Hi!" to everyone and everything he sees.  It's adorable, and I like that he isn't afraid of new people.  
The other kids had brought along sandbox toys and pitchers to collect water with.  We had not.  Asher doesn't quite understand what comes with playing at the park and what belongs to someone else and shouldn't just be taken.  It's a tricky thing to explain to him because when we go to the library, most things in his reach are part of the library.  Still, we coached him through asking first. 
We Get To
I never want to lose sight that we get to have all of these experiences with our boys.  We have 3 children that we never got to hold, diaper, feed, or watch grow up enough to have silly moments like these together. 
We have 2 amazing rainbow babies that we get to enjoy, and we also had a weekend where Matt could participate and make it possible to do so much more.  I won't make every weekend so busy for us (though I do like it when we've entirely worn the boys out), but I feel like we packed in so many experiences I have dreamed of sharing with our kids all into one full weekend.